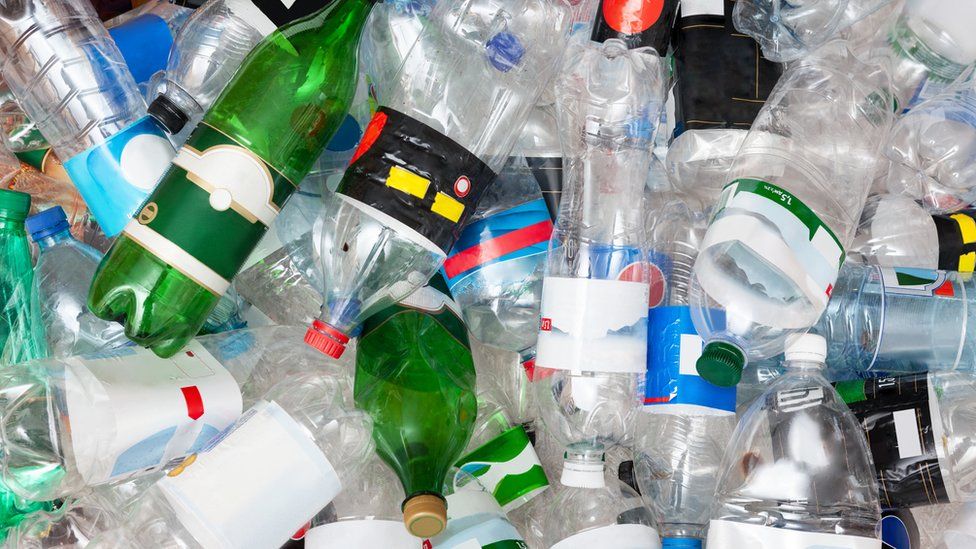 Image source, Getty Images
Image caption,
The sheer amount of rubbish produced globally per year is hard to fathom
By Jane Wakefield
Technology reporter
There is a lot of rubbish in the world.
Approximately 2.24 billion tonnes of solid waste was produced in 2020, according to the World Bank. It says the figure is likely to rise by 73% to 3.88 billion tonnes by 2050.
Plastic is particularly problematic. From the start of large-scale production of the material in the 1950s until 2015, more than 8.3 billion tonnes of plastic waste was produced, research from the Universities of Georgia and California calculated.
Someone who will not find those statistics surprising is Mikela Druckman. She has spent a lot of time looking at what we throw away, as the founder of Greyparrot, a UK start-up that has created an AI system designed to analyse waste processing and recycling facilities.
"In a single day you will have literally mountains of waste in one facility coming through, and what's very shocking and surprising is that it never stops," she says. There are no holidays for waste, it just keeps coming."
Greyparrot places cameras above the conveyor belts of around 50 waste and recycling sites in Europe, utilising AI software to analyse what passes through in real-time.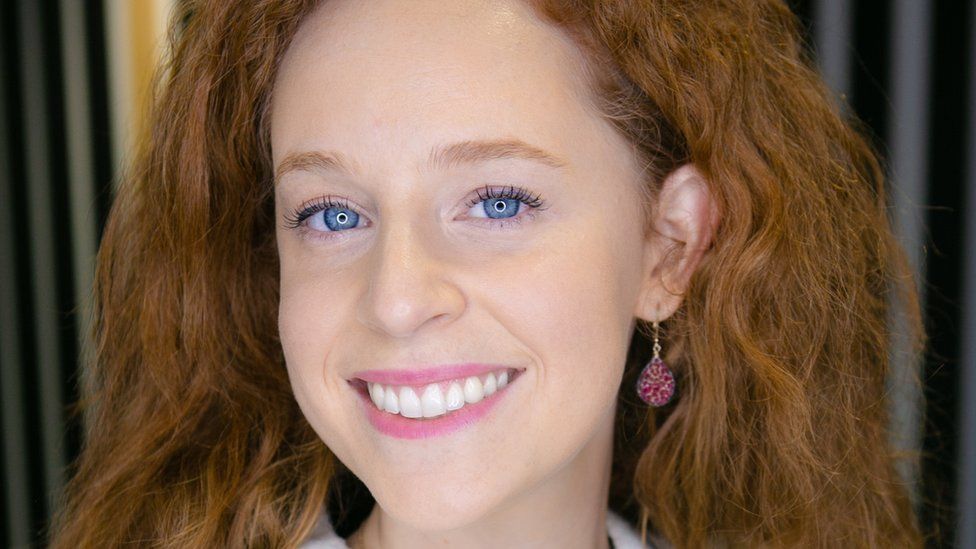 Image source, Mikela Druckman
Image caption,
Mikela Druckman wants consumer goods to be far more recyclable
AI technology has come on in leaps and bounds over the past year, and its ability to process images is now very sophisticated. However, Ms Druckman says it was still hard to train a system to recognise rubbish.
"A product like a Coke bottle, once it goes into the bin, will be crumpled, crushed and dirty, and makes the problem much more complex from an AI standpoint."
What is AI and is it dangerous?
Greyparrot's systems now track 32 billion waste objects per year, and the firm has built up a huge digital map of waste. This information can be used by waste managers to become more operationally efficient, but it can also be shared more widely.
"It is allowing regulators to have a much better understanding of what's happening with the material, what materials are problematic, and it is also influencing packaging design," says Ms Druckman.
"We talk about climate change and waste management as separate things, but actually they are interlinked because most of the reasons why we are using resources is because we're not actually recovering them.
"If we had stricter rules that change the way we consume, and how we design packaging, that has a very big impact on the value chain and how we are using resource."
She hopes that big brands and other producers will start using data generated by firms like GreyParrot, and ultimately design more reusable products.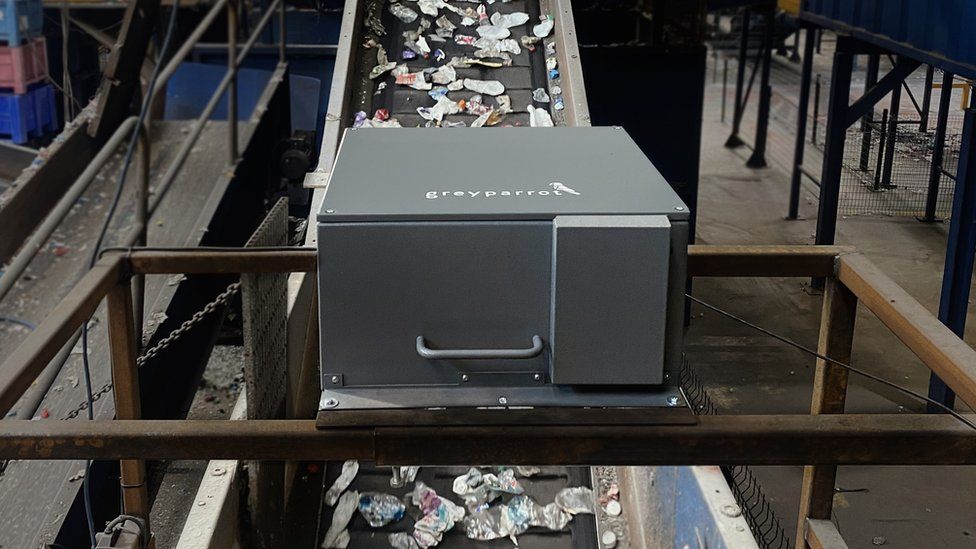 Image source, Greyparrot
Image caption,
Greyparrot's technology uses AI and cameras to monitor and record what passes down conveyor belts
Troy Swope runs a company that is intent on making better packaging. Footprint has worked with supermarkets, and with Gillette to convert its plastic razor trays to ones made of plant-based fibre.
In a blogpost on Footprint's website, Mr Swope claims that consumers are being misled by a "myth of recycling".
He referenced a plastic salad container that was labelled "ready to recycle" and asked what that actually meant.
"It's less likely than ever that their discarded single-use plastic ends up anywhere but a landfill," wrote Mr Swope. "The only way out of the plastics crisis is to stop depending on it in the first place."
So-called greenwashing is a big problem, says Ms Druckman. "We've seen a lot of claims about eco or green packaging, but sometimes they are not backed up with real fact, and can be very confusing for the consumer."
To help retailers know that used plastic bottles are in fact being recycled, and in what numbers, UK-firm Polytag covers them with an ultraviolet (UV) tag that is not visible to the human eye.
When the bottles then arrive at the determined recycling plants, the tags are read by a Polytag machine. The number of bottles is then uploaded to a cloud-based app in real time, which Polytag's customers can access.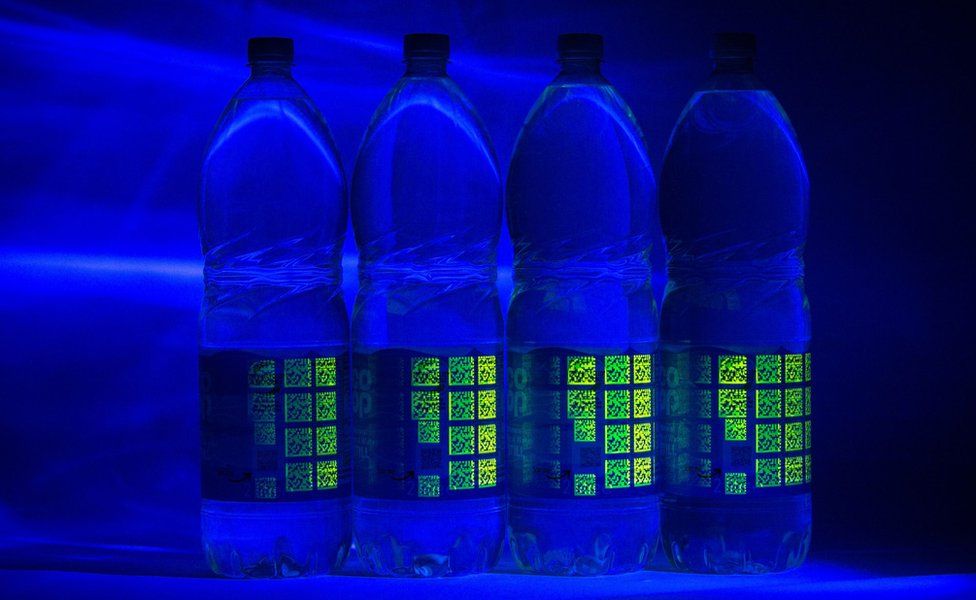 Image source, Polytag
Image caption,
Polytag's UV tags can only be seen when ultraviolet light is shown on them
"They can see exactly how many bottles are being recycled, which is something these brands never had access to before," says Polytag's project manager Rosa Knox-Bradley.
So far the firm has worked with UK retailers Co-Op and Ocado.
To make it easier for people to recycle, and encourage more to do so, the UK government and the administrations in Wales and Northern Ireland are due to launch a deposit return scheme in 2025.
This is due to see "reverse vending machines" located in shops and other public areas, where people will be able to deposit used plastic bottles and metal drinks cans, and be paid money for doing so – around 20p per item.
The search to find a planet-friendly way to get rid of rubbish remains a tough race, however, as seemingly every year a new trend comes along to throw a spanner in the works.


New Tech Economy is a series exploring how technological innovation is set to shape the new emerging economic landscape.

The latest is an addiction to e-cigarettes, or vapes, which are creating a whole new mountain of electronic waste that is hard to recycle.
"It's a huge problem. And it's getting bigger," said Ray Parmenter, head of policy and technical at the Chartered Institute of Waste Management.
He adds that the "fundamental issue" is disposable single-use vapes, which he says "are basically an anathema to the circular economy".
Disposal vapes are composed of many materials – plastics, metals, a lithium battery and some even have LED lights or microprocessors.
Research last year from Material Focus, an organisation that campaigns for more recycling of electrical products, suggests 1.3 million vapes are thrown away per week in the UK alone. This means that some 10 tons of lithium goes into landfill every year, enough to power 1,200 car batteries.
"The way we get these critical raw materials like lithium is from deep mines – not the easiest places to get to. So once we've got it out, we need to make the most of it," says Mr Parmenter.
Vapes are a good example of how we need to change thinking, says Ms Druckman.
"It doesn't make economic sense, it doesn't make any sense. Rather than ask how do we recycle them, ask why we have single-use vapes in the first place?"
While industry and policy-makers have big roles to play in making products more recyclable or reusable, so do consumers, she adds. And the biggest change they can make is to "consume less".
Related Topics
RecyclingWaste managementArtificial intelligence