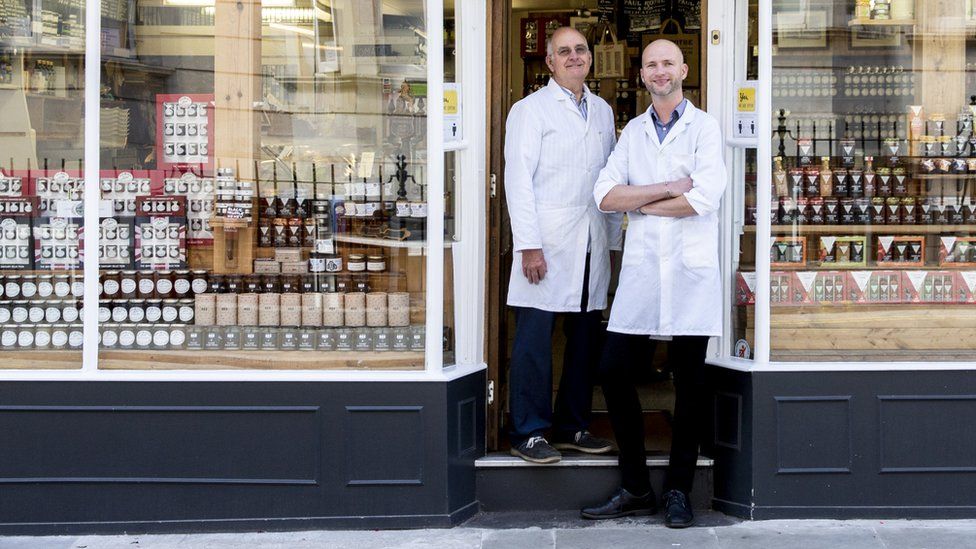 Image source, Nyla Sammons
Image caption,
Paul and Stephen Rothe's sandwich shop and deli has been in their family for 122 years
Sandwich shops are seeing customers return after a difficult two years, but hybrid working, and now higher food and energy prices, mean that challenges remain.
Paul Rothe still ponders what his late father would have thought of the pandemic lockdowns.
Mr Rothe runs Rothe & Sons, one of the oldest purveyors of sandwiches in London, the business has been in the same family since it opened in 1900.
He took over from his dad in the 1960s, and now looks after the business with his son Stephen.
"During the pandemic I've often wondered what my father would have thought of it, because he had to operate during World War Two," says Mr Rothe.
"I wonder if he would have thought that the pandemic was a bigger challenge. I think it would have been difficult to choose between the two."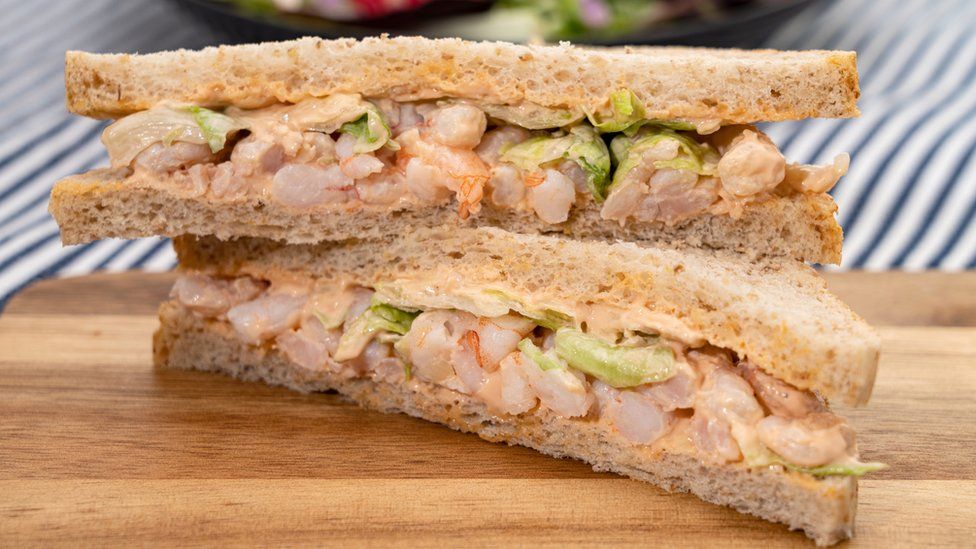 Image source, Getty Images
Image caption,
From posh to plain, large to small, pre-packed or made to order, sandwiches are a lunchtime staple
Unlike during the two world wars, the shop in Marylebone had to close for several weeks during the pandemic. Mr Rothe says that sandwich sales are now almost back to normal as we hopefully put lockdowns behind us, and people have returned to working in the office – at least part of the time.
"We've got a long queue at lunchtime again," he says. "We're not far short of where we were in 2019."
Yet, while Rothe & Sons says it has bounced back strongly, the wider picture for sandwich shops on both sides of the Atlantic is more mixed.
Retail analyst Diane Wehrle of Springboard Research, which tracks footfall in retail destinations, says the main problem is two words – hybrid working.
With many of us now only going into the office a few days a week, it is inevitable that some sandwich shops will struggle to return to 2019 sales levels.
"Hybrid working is very much established now," says Ms Wehrle. "Sandwich shops, in particular in central London, are not going to have the trade they once had."
Her opinion is backed by Bloomberg's "Pret Index", which tracks weekly store sales figures given to it by sandwich chain Pret A Manger for London, New York, Paris and Hong Kong.
Pret's sales in the City of London are still below pre-pandemic levels. Two weeks ago they were 12% lower.
Whereas in New York, Pret's sales remain far more muted, with those at its downtown branches still only at 46% of 2019 levels.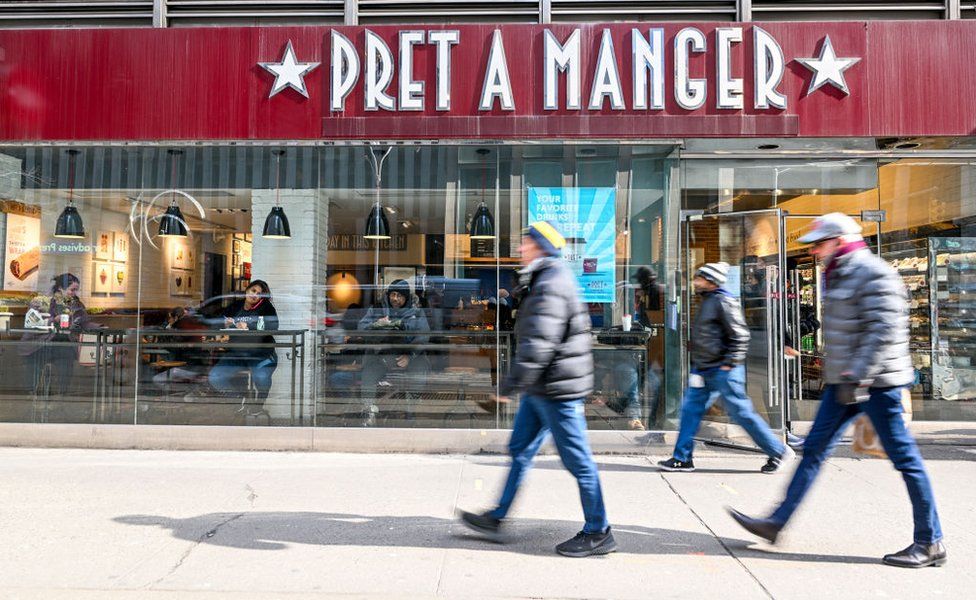 Image source, Getty Images
Image caption,
Pret's sales are still particularly subdued in New York
In Edinburgh, bagel shop Bross Bagels closed one of its city centre outlets during the pandemic due to a lack of its previous regular office worker customers.
"We decided not to renew the lease [on that city centre premises] not because we weren't growing as a company, but because we just assumed that, even when it [coronavirus] was over, not as many people would return to offices," says owner Larah Bross.
The firm also shut another branch in the Leith area of the Scottish capital. It now has four outlets across the city, with three in more residential neighbourhoods, and therefore less affected by hybrid working.
While the business is also continuing with the home delivery service that it started during the pandemic, Ms Bross says that customers have this year started to return to its outlets in large numbers.
She adds that Bross Bagels also remains active on social media, which during the pandemic helped it connect to clientele. "We're now seeing lots of posts [from customers, saying] #backtoworkbagel.
"The photos of bagels have gone from people in their pyjamas at their desks in their house, to back in the office – but they still have their bagels."
Image source, Marc Millar
Image caption,
Larah Bross wants to help encourage people to again consider working in hospitality
Keishon Warren, owner of two New York sandwich, fruit juice and coffee shops called BKLYN Blend, says it was support from the local community in Brooklyn that primarily helped his business through the pandemic.
He is also grateful for the initiatives launched in 2020 to support black-owned companies in the US during the pandemic, such as the Coalition to Back Black Businesses.
Like many other food service businesses, BKLYN Blend refocused on delivery during the pandemic, but also had the confidence to open its second branch in September 2020.
"Once the lockdown lifted, people were begging us to open the indoor seating again so they could come back in and have that interaction with each other," says Mr Warren. "Now we're seeing a lot of people coming in working on their laptops.
"We're seeing [sales] go back to pre-pandemic levels."
Image source, BKLYN Blend
Image caption,
Keishon Warren thanks the local community in Brooklyn for staying loyal to his business
But even for sandwich bars that made it through the pandemic, there continue to be challenges in addition to hybrid working, such as rising food and energy prices.
"[Food] prices are going up all the time, and some days businesses can't get ingredients," says Jim Winship, director at the British Sandwich Association. "We've lurched out of the pandemic to now a crisis in terms of supply chain issues and rampant energy costs."


New Economy is a new series exploring how businesses, trade, economies and working life are changing fast.

Paul Rothe is one of the many business owners dealing with the rising cost of ingredients. "A case of butter was costing us £39.99 just after Christmas, and now it's costing us £69," he says.
"Most things are going up, it's just a question of keeping your finger on the pulse of profit margins."
For Larah Bross the big issue is staff shortages, which she puts down to former hospitality workers being forced to find jobs in other sectors of the economy during the pandemic. "I guess it became a realisation that you could work from home, you didn't have to go and serve tables," she says.
"I feel like the younger generation are not as inspired by hospitality like I think we were."
But Ms Bross is determined to help reignite a passion for the industry. "I've got lot of friends in hospitality, and lots of them have lost the will," she says. "I want to see it get back up, and be part of the revolution. To stay positive and use our audience to show people that hospitality is fun."
Related Topics
Fast foodFoodCoronavirus pandemic